NFT CREATOR • ANTI-HESITATOR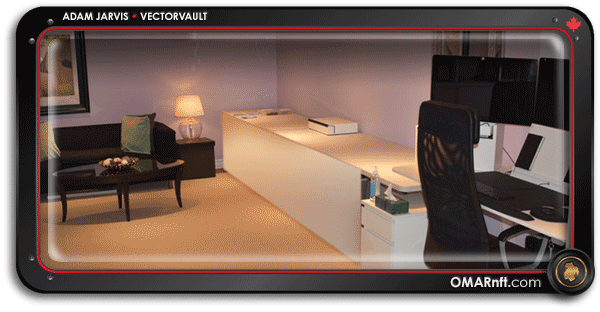 YOUR IMAGINATION IS THE COMBINATION
Vectorvault is a Canadian Design Brand founded in 2005. Still 100% Canadian owned, it's mission to showcase digital art creations and the incredible people behind them, has not changed.
However, It also serves as an artistic handle for it's creator Adam Jarvis. Born in Trinidad, West Indies and raised in Canada, Adam is a successful Creative Director, Writer and Artist who works in a multitude of mediums.
​
As a fan of Omar since his young 20's, working with "The Man" is a lifelong dream come true. This NFT Legacy Collection has challenged the entire Vectorvault Team to put their creative skills to the test.
Based in Toronto, Adam is someone who has always loved art and music (especially when they intersect). Since his earliest days of listening to records in his friend's basement, he has always been interested in how music was produced. Much of his time was spent lost in the album cover art and liner notes.
In his late teens and early 20's he was actively involved in organizing and promoting events during Toronto's historic House Music Scene of the late 80's / early 90's. He formed long lasting friendships with DJ's and other other creative people. And through it all, his art endured.
​
Today, Adam is a married father of 2, operating a successful bespoke design company with his wife and business partner Natalie. Together, they work with a wide range of clientele. Mostly (but not limited to) designing secret, high end presentations for celebrities and forward-thinking individuals. Clients are chosen. Only the respectful ones who pay on time remain.
Since being recognized as a Canadian Digital Visual Artist at the end of 2020 by Canada Council for the Arts, Adam has pivoted towards his passion for Digital Art. Since being introduced to NFT Creation by his friend (and fellow artist) Erin McGean in February of 2021, his focus has been on crafting one-of-a-kind pieces. His collection is thoughtful and designed to gain value for their future owners.
This Premier Omar Legacy NFT is (to date) the best thing that Adam has ever created. Please explore some of his other pieces to see the craftsmanship and care that goes into everything that he does.
"There is no half way to the top."