ALPHA

• OFFICIAL

OMAR NFT




MY BABY SAYS




ART / MUSIC COLLECTABLE
SOLD WED JULY 15, 2021
NEVER BEFORE RELEASED MUSIC DOWNLOAD
DELUXE PHYSICAL ART COLLECTION
UNIQUE DIGITAL ART CREATION
UNRELEASED, ULTRA-RARE 1994 OMAR TRACK
MINTED AS PART OF A ONE-OF-A-KIND NFT
Omar has partnered with Canadian Digital Visual Artist Adam Jarvis (aka: Vectorvault) and global music network iLive NFT to create a unique Non-Fungible Token (NFT) that allows a bidder to own the full-version master of this legendary musical treasure.
​
This exquisitely crafted NFT, was officially authorized by Omar Lyefook MBE to be minted on his behalf by Vectorvault. It will be listed for sale on Rariable on July 14, 2021.
LOST OMAR TRACK RESURFACES 27 YEARS LATER AS AN NFT.
Omar's third album "For Pleasure" (1994) was hailed as a UK neo-soul classic. With tracks like "Making Sense Of It", "Saturday", "Keep Stepping" and the one minute album-opening teaser entitled "My Baby Says." The full-version of that song was scheduled to be released on Omar's following album. However, it was held back.
THE ULTIMATE MUSIC / ART NFT COLLECTIBLE
For the last 27 years, DJs and music collectors from around the world have whispered about a rumoured lost recording. Today, we are pleased to finally announce its release as a unique Non-Fungible Token (NFT). By purchasing it, the buyer becomes the owner of this ultra-rare, original song master and complementary stunning digital animated portrait. In addition, this NFT includes a generous collection of physical art based on the main portrait.
ONE-OF-A-KIND

OMAR NFT




MY BABY SAYS




ART / MUSIC COLLECTABLE



Includes:
Unlocked Audio Master


Digital Art




Deluxe Physical Art




*Plus extras
Designed and produced in Canada by Vectorvault, this one-of-a-kind NFT art collection consists of several pieces of physical art. This purchase not only includes the rare "My Baby Says (Watch Me Feel It Now)" audio master by Omar, it also activates the delivery process of the physical art it inspires.
This one-of-a-kind art collection includes:
​
1 large format multi-layered portrait (22.75" x 32.5" x 3") *with custom display stand
1 display box (10.5" x 8.75" x 4.75")
1 video frame case with custom foam insert (9" x 7" x 4")
1 Infinite Objects bamboo video print frame with looping animated portrait (5.5" x 3.75" x .75")
1 metallic foil print portrait mounted to balsa wood frame (11.75" x 15.75" x 1")
1 medium lenticular motion card (4" x 5")
1 small lenticular motion card (3.75" x 2.75")
1 limited-edition sticker collection
1 pair of black cotton gloves
​
Delivered to the buyer anywhere in the world
Back in 2016, Omar performed at iLive Soulfest in Toronto for the first time in 10 years. In addition to designing the branding surrounding that event, Adam Jarvis (aka Vectorvault) was invited to participate in an art show inspired by the music of Omar along with fellow Canadian Artists Georgia Fullerton and Komi Olaf.
​
That night, Adam (along with his Art Production Manager Natalie) premiered a series of 3D printed art that was warmly received. 5 years later, that original piece (which was never offered for sale) is finally available as part of this ultra-rare NFT package.
​
That art show was the beginning of a friendship and a mutual respect between 2 artists. This NFT crystalizes Omar's relationship with Canada and his fans from around the globe.
​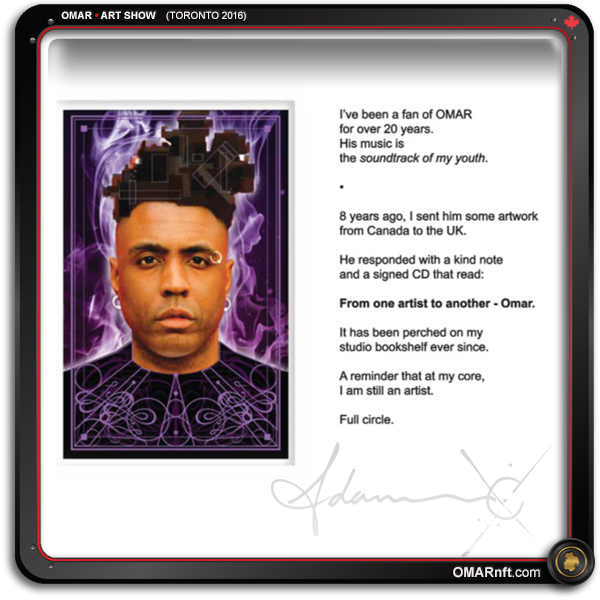 Wed. July 14, 2021 is your opportunity to own an important piece of music history and this unique art commemorative set. As Omar's career continues to rise, so too will the value of this NFT. His musical legacy will live on forever on the blockchain with you recorded as the first owner.
​
UPDATE:
On Thursday July 15, NFT collector (and Omar fan) Q of NFT Aficionado placed the winning bid for this one of a kind art / music collectable. As the very first custodian of this piece of music history, he is now captured on the blockchain with the story of this NFT. Congratulations Q. Thank you for supporting the music of Omar and this NFT collection.